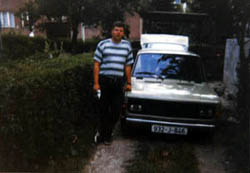 Hi my name is Dane Milenovic. I am 25 and I live in Sarajevo (Bosnia and Herzegovina).
This is my ZASTAVA 101, it is a 128 clon with practical 3rd door type AJON which opens along with rear windshield. The back seat is adjustable and then you get a bigger trunk. This is a Yugoslav version of FIAT 128 and it was presented in Belgrade in 1971.
Its a cult car in Sarajevo because there is no many goodones left. All others have the same problem with rust and holes in the floor or weak and broken chasis. I have one thats probably best in the hole city. I invested about 5.000 DM for restauration. Here are some technical data:

ENGINE:
Totaly restored, new pistons, piston rings,new cylinder head from 1100 engine, new MAGNETI MARELLI distributor, new fuel pump 75L/min (planning to built electrical pump) 1498ccm SOHC, 86,4x63,9mm, 9,2:1 , 110hp 115Nm/6000RPM
Double barrel carburator WEBER 32DMTR22 (Searching for 40or 45 DCOE WEBER and for ABARTH or IAWA camshaft ).
TRANSMISSION: 5 speed gear box (YUGO 65)
Clutch pressure plate from FIAT TIPO 1.4, stock 101 flywheel and clutch (because original from 1,5 engine is bigger and the starter motor can't start the motor . This happened to me when i put the 1,5 Engine the car won't start, then i had to disasemble all and i figured that is because flywheel.Very painful expirience)
SUSPENSION:
MONROE SENSATRAC
lowered front and rear (cut springs up front spacer blocks in rear) 3-leaf rear spring
EXHAUST SYSTEM:
SUPERSPRINT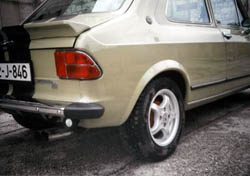 WHEELS & TIRES:
5 ? 13?ALUMINUM WHEELS
175/75 RAPIDEX R2 TIRES
BRAKES:
Front discs, rear drums (from Fiat Uno Turbo i.e)
Main brake cylinder servo-powered (I built it because serial models havent got servo-brakes, imagine that only this model was made for export.)
BODY:
Repainted in 1998 in original color
Restored back in 2002 because rust (only floor)
Original front lights with 100w xenon bulbs
Rear blinkers painted in red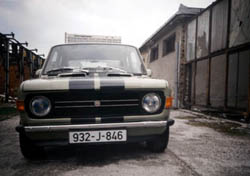 Front spoiler is from VW Golf and rear is original fiat 128
INTERIOR:
Some parts of interior are from 101 SPECIAL (middle console, instruments for oil pres and water temp, speedometer and tachometer). Steering wheel is from my FIAT 850 SPECIAL which was in bad shape and i have to sell it.
Stereo is KENWOOD 4x25w, speakers PIONEER 40w, remote central lock.
HISTORY: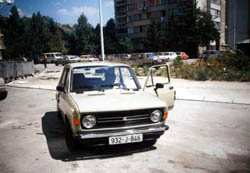 The car was manufactured in 1981. I bought it from my friend's father. It took me 2 years to convince him to sell it to me. It was in good shape and it was fresh painted. I only added the stripes and sport mirrors.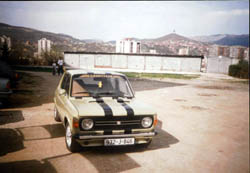 It had 1,1l with 55HP from 0-100 amazing 18 sec. In2000 I put the 1,3l engine with 75HP and 5 speed gear box from crashed YUGO65. Lowerig the cylinder head 1,5 mm and mounting supersprint exhaust sistem engine power has increased to 95HP and 0-100 only 13sec.
In 2001 I had to sell 1,3 engine and buy 1,5 engine from crashed RITMO 85. Again I lowered cylinder head but now only 1,3mm and with my exhaust sistem and modified air filter power is increased to 110HP and resulted 0-100 for 10 sec. It runs over 175 KM/h (has great aerodynamic 0,48).
Its great fun driving this car around where you see that everyone turning the head around and watching how great it is.
I love this car and probably I never gona sell it.